THE INVASIVE Groundwater PROBLEM
Invasive groundwater, also known as rising damp, is a global problem that creates an environment where a building's health and integrity are compromised, accelerating deterioration and increasing maintenance costs.
APPROXIMATE NUMBER OF BUILDINGS AFFECTED BY invasive groundwater IN THE UNITED STATES, UNITED KINGDOM, THE REPUBLIC OF KOREA, UNITED ARAB EMIRATES AND INDIA
APPROXIMATE VALUE OF INSURANCE CLAIMS RESULTING FROM INVASIVE GROUNDWATER PER YEAR IN THESE REGIONS
OF THESE AFFECTED BUILDINGS WILL SEEK IMMEDIATE REMEDIATION
Source: EY Market Study: December, 2019
A MULTI-BILLION DOLLAR PROBLEM​
Invasive groundwater and associated damage costs billions of U.S. dollars in building remediation costs incurred by real estate owners and tenants.

Building materials, such as masonry, are porous and consist of millions of microscopic capillaries channels. Capillary action describes how water, through molecular attraction, can rise inside these capillaries against the forces of gravity. The same phenomenon can easily be demonstrated in how a sponge can pull water into its voids against the forces of gravity.

Damage caused by invasive groundwater and the subsequent accumulation of salts in the walls of building structures increases the rate of degradation, resulting in the long-term erosion of building foundation, masonry and integrity, as well as other building maintenance issues.

Moisture and high humidity accumulation often result in mold, insect infestations, and unpleasant odors.

Non-permanent and expensive remediation methods do not solve the problem, only temporarily treat the symptoms

Chemicals : Potentially harmful chemicals can add potential health hazards to building occupants and are ineffective after time

Barriers: Waterproofing barriers are expensive and deteriorate over time
Nine Foundations
of a Healthy Building

Source: Building Evidence for Health – 
The 9 foundations of a healthy building, Harvard T.H Chan School of Public Health, 2017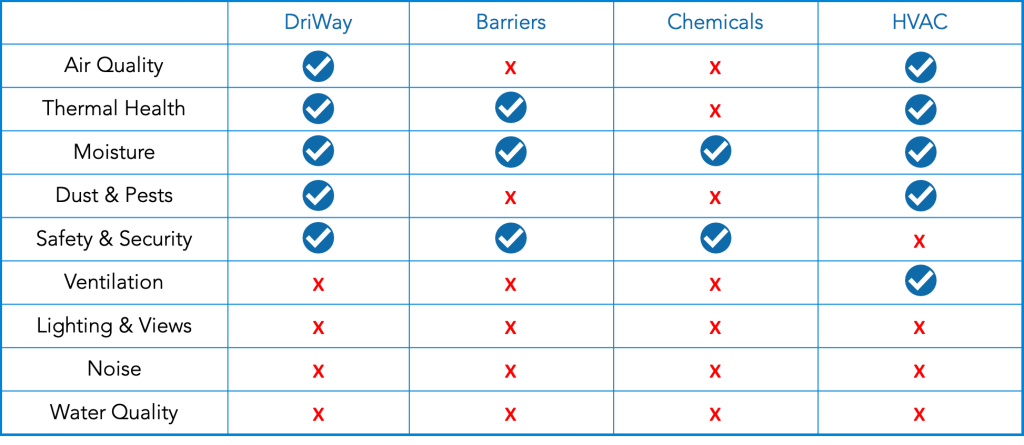 Improving the Health of Buildings